Welcome to the INDIE SPOTlight! Today I'm hosting Robin Glasser,  author of THE BRAIN EXCHANGE!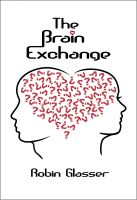 http://www.amazon.com/dp/B00BOHKG8E
Robin is going to fill our heads with everything wonderfully wicked. So let's get down to business! Before we jump into things, head over to
http://www.myspace.com/robinglasser and catch the "Robin in 7 Minutes" video which won her a spot in the Book Millionaire!

 A little about Robin>>>Recovering copywriter, Robin Glasser has written for a variety of magazines ranging from Readers' Digest to Penthouse Letters, where she wrote a column called "The Red Hot Woman." Her poetry has been published in Upstairs at Duroc and The Riverside Poetry Review. Ms. Glasser's novel, My Life as a Concubine, is based on her experiences in Paris or as she likes to call it, The City of Merde, and has been re-released from Smashwords and is available in all virtual bookstores. Robin guarantees Men at Work, her fully-illustrated book of poetry, will put twinkles in your eyes and sparkles in your pants. Don't forget to watch her fast-paced peepshows based on these tongue & cheeky poems at http://www.youtube.com/msrobinglasser. You can get a copy from robinglasser@yahoo.com. Her latest novel, The Brain Exchange, is available at Smashwords, Amazon, and virtual bookstores near you. She now reads at various venues in New York.
So away we go into Robin's world ( her unique brain) on…… THE BRAIN EXCHANGE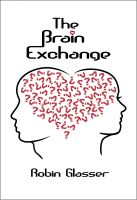 Q: How long have you been writing?
A: I actually wrote and directed my first play at age nine, mainly to get out of recess and wear lipstick, which I filched from my mother.
WP: Apparently skipping recess paid off Robin!
Q: What or who inspired you to write?
A: Again, my mom—an avid reader, and all the wonderful writers who took me on a magical journey into their imaginary worlds.
WP: Love that answer! Mothers are the greatest but it is all the great authors before us which truly gifted us to write.
Q: If you wrote "out of your genre" what genre would it be?
A: Historical fiction. Loving Frank by Nancy Horan was one of my favs and right after I'd finished it, the Guggenheim Museum had a retrospective of Frank Lloyd Wright's work.  I adore this genre because, although historically accurate, it brings the infamous and famous alive through conversations invented by the novelists.
WP: It is so easy to see the great  influence authors played in your life.
Q: Do you have to think hard about your story or can you just grab the idea and go with it?
A: Hmmm, interesting question. I have an overactive imagination and can come up with bookoos of ideas. Unfortunately procrastination (could be my middle name!) is quite active too so when I get stuck or do something other than writing (so easily distracted), I flit from one story to another. But, often the characters take over and come up with ideas of their own!
WP: Wow, it's always great to meet writers with this gift!

Q: What interferes with your writing, if anything?
A: I'm also an editor, which makes it difficult because I'm constantly editing my words—one of the main reasons it takes me so long to write a book. A good exercise I learned from one of many writing groups is to keep paper and pen by your bed. As soon as you wake up, start writing. I've covered oodles of pages this way, some of which were real gems!
WP: Fantastic advice Robin!
Q: Most Authors have a favorite writer which they tend to mentor on, whose yours?
A: Too many to name. In my latest book, The Brain Exchange, I pay homage to some of my favorite authors by slightly changing the spelling of their characters' names—example: Jax Reecher is a takeoff on Lee Child's hero, Jack Reacher.
WP: I would bet money many authors pay homage to their own greats as well in their writing!
Q: How many books have you written and published so far?
A: Three and a half—hahaha! I've written a children's book called Baboon Bob but have yet to illustrate it. Procrastinating once again!
WP: A true author knows "procrastination" all too well! I know another book of y0urs as well, MY LIFE AS A CONCUBINE, which I  left the cover and link for at the bottom along with THE BRAIN EXCHANGE. Hope everyone will check it out as well!
Q: Do you plan sequels to your book(s)?
A: Not so far.
WP:  Sequels are great but it's good to write new things as well.
Q: When can we expect your next great writing work?
A: Soon.
WP: Did I just taste "procrastination" in my throat? HAHA
Q: What describes you best as a person, not a writer?
A: I'm exuberant, funny but (isn't there always?) too much of a perfectionist.
WP: You sound like a very exuberant Lady!
Q: Do you have specific rituals you do to get ready to start writing?
A: Other than forcing myself to sit in front of my computer, no.
WP: I've had those periods where I force myself to write.
Q: Any advice can you give others on writing to make their experience better?
A: Read a lot. Try to write something everyday (see my answer on Q 5). If you find yourself staring at a blank page and nothing's happening, promote your book on Twitter, Goodreads, LinkedIn, for examples. Join a writing group for feedback and sympathy. If one's not available, start your own in the library… I did and it was great fun, learned a lot too! Oh, and read what you've written aloud or have someone read your pages back to you. You'll be amazed by what your ears pick up that your eyes might have missed!
WP: Amazing response and I hope the readers take all this advice. I follow similar regimens, just to keep it going!
Q: What do you want your readers to know most about you or NOT want them to know?
A: Well, I'm certainly NOT gonna divulge my dark side on paper! I do try extremely hard to avoid clichés and write lines that will stand out. Michael Chabon, another author I admire, always has some memorable phrases sprinkled throughout his books. One description that comes to mind (paraphrasing): "his face was like a sagging front porch…" I mean, how visual is that!
WP: Oh!  I love  "individual" authors' pariance which make their books tantalizing to read! When I read them, I look for their unique phrases!

Q: In ending, tell us one thing you want everyone to know about your book and why it's a great read.
A: It's a terrific new twist on an idea that's been around (Aren't there mainly six of 'em that are adapted over and over?). I use mostly write bytes (a term I coined) — short 'paragraphs' that switch back and forth between the two protagonists. Filled with pages of HOT sex and humor, The Brain Exchange is also a mystery featuring plots that zig and zag galore—it's a wild and wicked rollercoaster read. 
WP: It's on my list for reading and I look forward to some steamy lines in it too!
I want to thank  Robin generously for sharing THE BRAIN EXCHANGE with us today!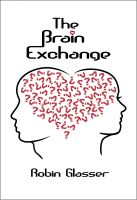 Below are the many places you can find Robin Glasser  so follow her to see what she's up to!
             http://www.authorsden.com/robinglasser 
             http://www.myspace.com/robinglasser
             https://twitter.com/RobinGlasser1
             http://www.youtube.com/msrobinglasser 
          http://www.shelfari.com/robin636
          http://www.goodreads.com/photo/author/6889092.Robin_Glasser
Links to The Brain Exchange are listed below so grab your copy today! Also check out My Life as a Concubine also by Robin Glasser!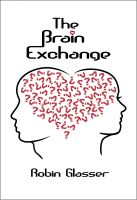 http://www.amazon.com/dp/B00BOHKG8E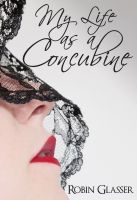 https://www.smashwords.com/books/view/252000
//   http:// www.barnesandnoble.com/w/the-brain-exchange-robin-glasser/1114796377?ean=2940044351271
and other virtual bookstores near you
 A few words from Robin >>>>>

Abandon your beliefs and let your reality run wild. Imagine being fully aware inside a body of the opposite gender. Now imagine the best sex you ever had. Would this just be different? Or better? Or the best ever?
~~~~~~~~~~~~~
Amana—a supersized woman, and Steel—a fitness freak. Two dissatisfied people with very different appetites. Fate's middle finger triggers a tailspin when they sign up for vacations at The Brain Exchange. Their odyssey will change them dramatically…but for better or worse?
Many thanks to Robin Glasser for allowing me a day in THE INDIE SPOTlight with her!  It has been a pleasure sharing with her the questions they plague many readers wanting to know about the person who wrote "the" book. I hope everyone enjoyed The INDIE SPOTlight and I look forward to SPOTlighting YOU next in The INDIE SPOTlight!

Follow me on Twitter: @brknsunshine
Facebook: http://www.facebook.com/wandaphillips-smith  and on http://www.facebook.com/Brknsunshine (Author Page)
If you would like a day in The INDIE  SPOTlight, simply drop me an email at wsmith727@comcast.net and let's get you booked!   Until next week, wishing everyone a great,  safe and happy week!  Thanks to all my followers and special tweeps for your continued support in the world of indie writing and publishing!
!